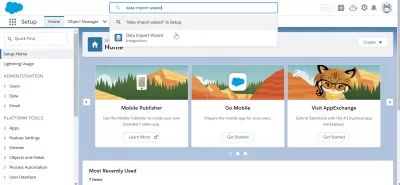 ---
---
It's not even worth considering entering the data by hand. Do not be afraid. Importing data into Salesforce can be done in various ways, each of which will ensure that you are fully operational in the shortest time available.
But before that, take a look at the recommendations provided below, and take the initiative to study the Salesforce material that is provided for Preparing Your Data for Import before proceeding to the following options on how to import data in Salesforce.
Various tools to import data in SalesForce
1. Apex Data Loader:
This is another free and simple-to-use solution for importing data into Salesforce objects. Salesforce.com, a basic application, likewise designed this program. This allows you to export, import, and remove an unlimited quantity of Salesforce data and information. Current availability is restricted to Enterprise Edition and higher, and the downloadable application is only compatible with Windows PCs.
This free alternative is ideal for excel enthusiasts. This open-source software is compatible with Premium Versions and higher. It is ideal for storing small batches or transferring data in both directions.
3. Jitterbit Data Loader For Salesforce:
This free tool is compatible with both Mac and PC and enables Salesforce admins to export and import data. Multiple logins are supported and are functional with all Salesforce group editions and higher.
4. Dataloader IO:
The Dataloader io features a clear and intuitive interface that makes exporting, importing, and deleting data in Salesforce, regardless of the edition, simple to use. This third-party program allows you to arrange monthly, weekly, or even daily imports of tasks and opportunities.
5. Informatica Cloud Data Loader For Salesforce:
This free application for loading data makes it easy to import and export data between databases from Salesforce and Force.com. It works with Salesforce versions Professional and higher. Yes, you can protect sensitive data with this vital tool and data masking.
This tool is marketed as a straightforward tool for importing contacts, accounts, solutions, leads, and custom objects. This is offered without charge and prevents the loading of duplicate data. Its straightforward UI is ideal for new users.
You can even use it to import CSV files into SalesForce, simply by using the drag file here to import option at the mapping step of the import wizard.
Ten Steps On How To Import Data In Salesforce
The typical deployment of Salesforce consists of ten steps, three of which involve data loading. This step alone can reach up to 25 percent of the overall time and extra fees incurred during the implementation phase.
Step 1: Set Business Goals
Step 2: Identify stakeholders
Step 3: Set time and budget
Step 4: Clean the Data
Step 5: Migrate the Data
Step 6: Deploy
Step 7: Customize
Step 8: Test
Step 9: Drive adoption and train
Step 10: Manage
How To Select The Appropriate Data To Import For Your Salesforce?
To assist, we have compiled a list of questions to ask while planning a Salesforce setup. By evaluating these elements immediately in the implementation phase, you can ensure the proper methods, resources, and money have been identified and assigned, respectively.
How Much Data Do You Transfer?
A CRM is just as effective as the information it controls. During the planning process of the CRM implementation, it is vital to assess all of the apps from which and to which data must be sent. Are you transferring hundreds, tens of thousands, or millions of rows? This knowledge will impact the data loading options that are offered. Simple data loader solutions can only handle a limited quantity of data. iPaaS systems can support enormous data volumes but are costly and difficult to administer.
What Is The Complexity Of Your Data Transformations?
The number of Salesforce import data is determined by the user's permissions and the type of data being imported. In addition, the number of records available for import cannot exceed the total storage capacity of your Salesforce organization.
Does the data for your CRM come from an older ERP system that uses API, SFTP, or flat files? If you are aware of the location from which the source data originates, you will be better able to estimate the level of difficulty associated with the data translation. If you are transferring data from more than one data source or if there is a big difference between the data model of your organization and the data model used by Salesforce, then it is pretty likely that some data modification and complex mapping method will be required.
How Do You Plan To Make The Data More Accurate?
Are you familiar with utilizing v-lookups in Excel? Do your data come from different sources? Do you have to deal with many different versions of the truth? Suppose the data you manage comes through web forms or is of a significant volume. In that case, you should think about adopting solutions that offer duplication detection, data cleansing through data analysis, and error handling through exception management. Some data loading technologies already come equipped with these features. However, other products do not provide this functionality at all and need you to use other solutions instead.
---
---
Explore Your Business Potential: Discover Our Range of Transformative Courses Today!
Unveil the power of knowledge with our diverse array of courses, from Operational Procurement in S/4HANA to SEO essentials. Elevate your expertise and drive success in your business ventures.
Get your course
---