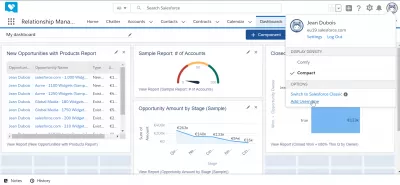 ---
---
The peculiarity of the system is that after  SalesForce login   allows you to have a wide functionality:
make a database of customers containing their names and contacts;
document management (applications, contracts, receipts);
transactions (orders, sales, payment information).
But sometimes registration is not needed.
In order to examine the performance of Salesforce, analyze an issue, or resolve a problem, it is sometimes necessary for the Salesforce administrator to log in to Salesforce using the accounts of another user. When resolving a problem, it is necessary to have the ability to log in using the account of another person.
Administrators can log in to a Salesforce organization on behalf of a user who is having difficulty assisting with troubleshooting.
Instructions On Salesforce How To Login As Another User
You need to follow a few steps to know Salesforce how to log in as another user. Administrators can log in to a Salesforce organization on behalf of a user who is having difficulty assisting with troubleshooting. They will help you resolve the problem.
Go To Setup> Click The Login Access Policies> Click The Setting.
Contact Salesforce to request that this functionality be withdrawn from your organization. If you disable the feature, a user will be required to allow access permission before an administrator will be able to browse that user's account to perform assistance.
You may go to Salesforce's documentation for additional information if you require more specifics. To log in to Salesforce using another user's credentials, specific permissions are required. After enabling administrators to log in as another user, a login menu will be shown while you are browsing users in the domain. This occurs regardless of whatever user you are currently browsing.
Step-By-Step Procedures On Salesforce How To Log In As Another User
The following is a list of the procedures that need to be taken to successfully login as another user once this functionality has been activated:
STEP 1:
When in Setup, go to the Quick Find box and type in User Name. Then, select the user.
STEP 2:
Select the Login link next to your username to log in to Salesforce. Only users who have given an admin permission to log in as themself or users who are part of organizations in which admins are allowed to log in as another user and have accessibility to this page.
STEP 3:
To reaccess your admin account, choose Username and click the Logout button.
Salesforce How To Login As Another User With No View Setup And Configuration Permissions.
Is it possible to grant a user the capability of logging in as another user without granting that customer permission to see configuration and Setup and change the access?
As a result of the necessity to perform testing in Salesforce by logging in under various profiles while denying access to the objects, fields, metadata, and configurations found in the organization, this task must be completed.
You will want Access Setup & Configuration at the very least, as the Login button is not accessible from anyplace else than the setup panels.
A Delegated Administrator also requires View Setup and Configuration, and you do not require the Modify All Data permission. Delegated administration allows you to provide users in your organization who aren't administrators with limited administrative privileges.
For instance, let's suppose you want the management of the Customer Support team to be responsible for managing users with the Support Manager function and all positions below it. In order to free up your time to focus on other aspects of administration, you should set up a delegated admin specifically for this reason.
Procedures On Salesforce How To Login As Another User With Delegated Administration
STEP 1:
From the Setup menu, type Delegated Administration into the Quick Find box, then pick Delegated Administration, and then click New.
STEP 2:
Choose or establish a delegation group.
STEP 3:
By selecting the Enable Groups for Login Permission option, you can grant permission to control access to login in as consumers in the function structure they govern. Individual users must first provide their administrator's permission to log in as them, which may or may not be required by your organization's settings.
STEP 4:
Select the Save option.
STEP 5:
To define the specifics of your delegated group, click the Add button next to each associated list.
Conclusion
It is beneficial for testing newly developed features in a testing environment if system administrators are permitted to log in as any user they like. It is also possible to use it to replicate a problem that a particular user is experiencing or testing permissions for a specific user.
I hope this article about salesforce how to login as another user becomes helpful to you.
---
---
Explore Your Business Potential: Discover Our Range of Transformative Courses Today!
Unveil the power of knowledge with our diverse array of courses, from Operational Procurement in S/4HANA to SEO essentials. Elevate your expertise and drive success in your business ventures.
Get your course
---