Before you start learning online training for Salesforce, you need to remind yourself of the basics.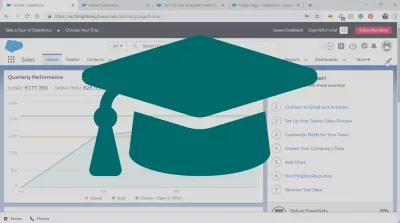 ---
---
What are SalesForce online trainings and which are the best
Before you start learning online training for Salesforce, you need to remind yourself of the basics.
Salesforce is a platform that empowers your customers to maximize their success and is designed specifically for your sales, service, marketing, analysis, and communication tasks with your customers.
What you can develop for Salesforce:
Development of new functionality for standard CRM modules.
Automation of complex business processes for the needs of a particular company.
Development of custom templates for emails.
Implementation of Einstein AI capabilities in CRM.
Creation of custom reports and dashboards.
SalesForce online training allows you to get programming skills for a specific CRM. Having chosen the necessary training, the programmer will learn the details of creating modules, applications on APEX, Visualforce.
The main feature of CRM SalesForce is the ability to customize it by changing the internal program code of the program. This allows the company to receive new modules, modified functions. To program this CRM, you first need to go through SalesForce online training.
| Top 5 Best SalesForce online trainings | Rating | Buy |
| --- | --- | --- |
| Salesforce Essentials. If your company has started using Salesforce and you need to get up to speed, this course is for you | 5 | |
| Launch Your Salesforce Career: Newbie to Paid Professional | 5 | |
| Salesforce DX - The Complete Guide | 4.8 | |
| The Complete Salesforce Development Course | 4.6 | |
| The Complete Salesforce Classic Administrator Certification | 4.4 | |
| Salesforce Lightning Experience: The Basics | 3.4 | |
Why SalesForce Needs Trainings
SalesForce CRM software is developed by the company so that it can be adapted to the business needs of the organization. To change it, you do not need a programmer, and it is also not necessary to undergo training in setting up.
There are two types of CRM SalesForce settings:
configuration;
customization.
During configuration, the user configures all the necessary modules, while changing their name, purpose, entering the necessary information there and filling in all the data. A special SalesForce manager is hired to work on configuration.
When customizing, you can configure not only modules, but also add new ones, change the CRM so that it ideally suits the needs of the company. This will require interfering with the open source code of SalesForce by programming it. Only a single specialist-programmer who has completed SalesForce online training can cope with this.
Trainings will help the programmer understand the principles of this CRM, what needs to be done with it, and most importantly how and what can be obtained at the end. Without learning how to work in this program, its further programming is simply impossible.
SalesForce Lightning essentials: First Look Online Courses
However, if you are an end user, you might not need to know how to configure or customize the SalesForce software, but only how to use it. An easy to learn online training for SalesForce might be more suitable at the start.
In that case, a course like SalesForce Lightning Essentials: first look online courses is what you are looking for, in order to start with your first steps in the system, and be able to work productively with the CRM in a company.
What SalesForce trainings include
SalesForse CRM trainings include a lot of useful information not only for programming, but also for working in this program in general. Without understanding the principle of work and the visual appearance of how this happens, the programmer simply does not know what he can get at the output of his work.
SalesForce trainings in general allow you to get this kind of knowledge:
Administration of Salesforce;
creation of applications for CRM in the APEX language;
creation of a front-end for Salesforce, in the Visualforce programming language;
writing unit tests for testing programs in Salesforce;
learning JavaScript, jQuery while developing Salesforce.
Application creation is the main feature in development. In this case, the programmer will be able to connect new functions that were not included in the standard section. These modules and applications are developed jointly with the administration of the company and on their order.
As a rule, a programmer who has completed Salesforce trainings is far from always able to independently connect all the necessary applications. A group of programmers is hired right away, where everyone understands a separate programming language - APEX, JavaScript, jQuery, and so on. For complex development, programmers undergo various SalesForce online training and intersect only in general education. Then they go to study the material in the development of which they specialize.
Advantage of SalesForce trainings
Salesforce trainings seem very simple at first glance. Often this is an ordinary online training on application development, reminiscent of the development of the same 1C Accounting and other similar programs.
Experienced programmers who work specifically in the field of software for business have probably gone through similar trainings more than once. There are quite a lot of such programs for companies that require multiple work with open source code.
The main benefit of training for Salesforce is multitasking. At first glance, the programmer will not understand what this means, but over time it will immediately become clear that many programming languages, modules, conditions and variables are quite closely intertwined with each other and it will take time to understand the algorithm of the whole system. Salesforce training makes this easier because training is primarily designed to save time.
Often, programmers are also divided into different groups that are engaged in different types of activities within the program. But if you are very few, then only one person will have to deal with the creation of modules and programming their appearance (front-end). Often these are too different directions and one programmer does not perform these two tasks. Online training will allow you to understand how it all works, is connected and how to cope with it.
Where to find the best SalesForce trainings
The best Salesforce trainings can be found both online and in special schools that deal specifically with this area, both online and in the classroom. If you are proficient enough in English, which is often the case for programmers, you can take online training from Salesforce itself.
CRM representatives conduct training on a regular basis, courses are available online in the public domain, as well as training materials. The same is also in Russian, freely available on the Internet, but it does not matter where exactly you apply for the courses, you must meet all the minimum requirements specified when submitting the application.
Selection: Top 5 Best SalesForce online trainings
With a large choice of SalesForce online training available on various platforms, it might be difficult to choose the right one, and to get your money worth of knowledge.
Therefore, this selection of the Top 5 best online trainings for SalesForce will help you directly get the right one, depending on your level: new user, paid professional, developer, administrator, either for personal skill upgrade or to let your whole workforce upskill where it matters.
---
---