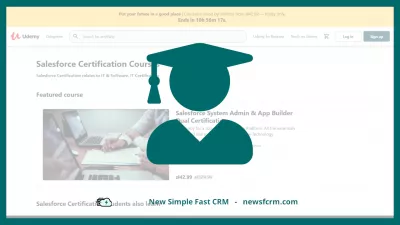 ---
---
Salesforce Certification Guide: Your Pathway to a Profitable Career
Salesforce is a platform that empowers your customers to maximize their success and is designed specifically for your sales, service, marketing, analysis, and communication tasks with your customers.
To improve activities with the platform, it is possible to get certified and confirm your qualifications. We will tell you the possible Salesforce certification paths.
Salesforce certification is a great way to get ahead by validating your skills on one of the most popular CRM platforms. Get started in Salesforce with this guide to the most valuable Salesforce certifications.
Whether you're looking to find a new job, earn a promotion, or secure a promotion, the Salesforce Certification is a great step in your career!
Below is a guide to the many Salesforce certifications and how earning one or more certifications can help take your career and payroll to the next level.
Salesforce Certification Benefits
Salesforce roles range from technical (architects, developers, implementation experts) to those related to marketing and sales. Each role is different in terms of the required depth of understanding of the Salesforce platform.
Offered Udemy Courses: Salesforce Certification (https://www.udemy.com)
The Salesforce Certification Introductory Course is one of the fastest growing and most requested skillsets today. From software developers to solution architects, project managers, and marketing and sales professionals, Salesforce skills pay off in a variety of roles:
Salesforce Introductory Course: $ 13.99 - $ 19.19 (30% off)
Proven Success: The Salesforce Admin Certification Guide!
A Salesforce Admin Certificate is the highest form of recognition a Salesforce Admin can receive; he demonstrates expertise in the field as well as commitment to the platform.
Certification is becoming increasingly popular among Salesforce professionals. At the very least, it can help improve a professional's knowledge of the platform, but research shows that it can also improve job opportunities.
By attending a full SalesForce certification track, usually after having completed various SalesForce online trainings and already having some experience in the CRM use within a professional context, you will surely be able to advance your career.
Salesforce Certification Overview
Salesforce offers a variety of certifications path for a variety of job roles, including:
Most of the tracks offer individual certifications demonstrating experience in the field. However, the Salesforce Architect course is unique in that candidates can either earn individual certifications or combine earned certifications (also known as specializations) to achieve higher-level certifications, such as a Certified Salesforce App Architect or a Certified Salesforce System Architect.
Professionals who follow both of these architectural paths can then reach the top tier of Salesforce Certified Technical Architect.
Salesforce Admin Certificates
Salesforce offers two levels of admin credentials. Both focus on administrative functions, including defining user requirements, setting up the Salesforce platform, and helping users get the most out of their solutions. In addition, administrators can obtain certificates related to app creation and CPQ (price quote customization).
Before enrolling in the SalesForce administrator certification track, it is recommended to attend an online certification bootcamp to put all chances on your side, and increase drastically your odds at becoming a recognized SalesForce certfied administrator.
Salesforce Admin
To earn this certification, candidates must have extensive knowledge of Salesforce setup and configuration, as well as being able to manage users and make the most of the platform.
The exam consists of 60 multiple-choice questions of 90 minutes each.
You need to know how to: manage users, data and security; maintain and customize the Sales Cloud and Service Cloud apps; and create reports, dashboards and workflows.
Advanced Salesforce Admin
Applicants should have experience using the advanced administration capabilities in Salesforce and be able to create advanced reports, dashboards, and automation processes.
The exam consists of 60 multiple-choice questions of 90 minutes each.
You need to know how to: Use the advanced administration capabilities of Salesforce. optimize and extend Sales Cloud and Service Cloud applications; create advanced reports, dashboards and automate business processes.
SalesForce administrator certifications
CPQ Salesforce Certified Specialist
This certification is recognized by professionals who implement Salesforce CPQ solutions, design and build proposal flows to meet customer requirements, and troubleshoot platform issues. A Salesforce Certified CPQ Professional typically has six to twelve months of experience as a CPQ Specialist and also has experience with the Salesforce CPQ platform, CPQ terminology, and can troubleshoot and resolve underlying platform issues.
Salesforce CPQs Should Know:
How to create solutions to support business processes,
Troubleshoot and resolve underlying platform issues,
Customize product rules, pricing rules, discount schedules, block pricing, and more.
Set costs, contract prices, quotation templates, quotation processes, and custom actions.
They also need to be knowledgeable about the CPQ data object model, CPQ package level settings and price levels. Candidates are given 105 minutes to answer 60 multiple choice questions on the exam.
Certified App Builder for Salesforce Platform
Salesforce Certified App Designer credentials require the ability to design, build, and deploy custom apps on the Force.com platform. These credentials require more programming and engineering skills than others in the track of a certified administrator.
This skill set includes extensive knowledge of the declarative development and customization features available on the platform.
The exam consists of 60 multiple-choice questions of 90 minutes each.
Salesforce Developer Certificates
Salesforce Developer Credentials are for professionals with the knowledge, skills, and experience of building custom declarative and software applications on the Force.com platform.
This track includes a Certified  SalesForce platform   App Builder that can also be applied to the Salesforce Admin track. There are two types of developer certificates: two-level platform developer credentials and one for developing e-commerce solutions.
Before starting with the certification track, it is recommended to get ready for the certification with a Salesforce Platform App Builder Certification Prep online course.
This course will provide you with practice questions to help you be the most prepared for exam day. This exam and certification is a game-changer for a salesforce career!
Salesforce Certified Platform Developer |
To pass this exam, candidates must know how to design a data model, user interface, business logic, and security for custom applications, and be able to develop custom applications using Apex and Visualforce. Applicants should also be familiar with the development lifecycle and have an understanding of the environments available.
The exam consists of 60 multiple-choice questions of 105 minutes each.
Salesforce II Certified Platform Developer
Applicants must be experts in the advanced programming capabilities of the Force.com platform and data modeling so that they can develop complex business logic and interfaces on the platform. The certification process has three components: a multiple-choice exam, a programming assignment, and an essay exam.
Applicants must be able to design, develop, test, and deploy easy-to-maintain, reliable, and reusable software solutions. They should also be proficient in following Apex design patterns and object-oriented programming best practices.
The exam consists of 60 multiple choice questions in 120 minutes.
Salesforce Developer Certifications
Salesforce Certified B2C Commerce Developer
Applicants must be experienced full-time developers for Salesforce B2C Commerce Digital. It is intended for those who develop e-commerce solutions and have experience in:
Development environment settings;
Working with a digital data model;
Work with the content of the site;
Using Salesforce Business Manager to complete site customization tasks,
Using scripts to extend the site logic;
Interact with external applications to optimize site performance and troubleshoot issues.
The multiple choice exam consists of 60 questions of 105 minutes.
Salesforce Certified Cloud Marketing Solution Developer
Marketing Cloud Certified Developers have hands-on development experience across the entire Salesforce platform. Applicants must have hands-on experience as a full-time developer for Marketing Cloud and be able to create:
Personalized, dynamic marketing and sales messages;
Landing pages;
Fluent in Marketing Cloud scripting languages;
Have experience in customizing data manipulation:
Experience in expanding segmentation, reporting and analytics.
The Marketing Cloud developer is well versed in managing subscribers across all channels and has the ability to troubleshoot in a variety of programming languages ​​that are used to develop both tactical and strategic email campaigns.
Applicants will be given 105 minutes to answer 60 multiple-choice questions.
SalesForce Marketer certifications
Salesforce Architect certifications
Salesforce offers a three-tiered certification system for architects. At a basic level, there are several designer-related certifications:
Salesforce Architect certifications
Certified Platform Developer I
Architects who have earned a specific set of certifications in the Designer, Developer, and Application Builder areas can then be certified as a Domain Architect as Application Architects or System Architects. Salesforce Certified Technical Architects, Highest Level, combine both domains of domain architecture, showcasing knowledge, skills, and capabilities across all available domains.
Salesforce Certified App Architect
This certification requires a deep understanding of built-in Salesforce functionality and capabilities, as well as the ability to model a role hierarchy, data model, and associated sharing mechanisms. To receive this certification, architects must pass four certifications, each with its own exam and fee.
Salesforce Certified Systems Architect
The certification emphasizes system testing, management, and integration with external systems in an organization's infrastructure. To receive this certification, architects must pass four certifications, each with its own exam and fee.
---
---