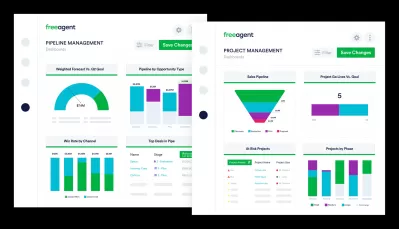 ---
---
The working day of a real estate agent often becomes unmanageable. Usually, difficulties arise as the client base grows. You can clean up the processes, and at the same time increase the efficiency of the staff, using special tools.
Competent digitalization is needed both by large real estate agencies and small companies from the regions. It allows you to speed up routine tasks and creates opportunities for the introduction of new convenient models of interaction between sellers and buyers.
When a company has a lot of customers, sales managers may lose actual correspondence and not have time to respond to new requests in mail and social networks. Customers wait a long time for an answer, and then go to competitors. In order not to lose leads and work effectively with existing customers, companies use CRM systems.
CRM is a program that helps to organize sales. In it, you can maintain a contact database, set up a sales funnel, set tasks for managers, control their work, respond to incoming requests from any source, call customers, send them letters and messages on social networks and instant messengers.
What tasks does CRM solve in a real estate agency
CRM - Customer Relationship Management - translates as customer relationship management. This is a program that helps businesses not to lose applications, keep a history of working with clients and simplifies the sales process.
CRM for real estate agency allows you to regulate the work of managers, defining the stages of the transaction and the list of required documents. Information on each transaction is recorded in CRM - status, amount, all kinds of details and conditions, all actions performed (calls, letters, meetings with clients, invoices, etc.).
Provided the ability to select pre-configured analytical reports and analyze the results. If a problem occurs, CRM can help determine the cause and resolve it.
This program collects applications, reflects the process of interaction between managers and clients, and all information on transactions.
A business needs a CRM system to solve the following tasks:
Collect client base;
Build relationships with clients;
Manage sales processes.
Collection of client base.
Data on clients and transactions is stored in CRM and will not be lost if the manager quits or deletes letters in the mail. The customer base can be viewed as a list, where the customer's name and contact details, such as phone number and email address, will be immediately visible. You can also use filters to unload the contacts of customers that match the criteria you need, such as those who have not been contacted for a long time or who bought a certain product.
Communication with clients.
CRM collects requests from clients from all sources: from phone, mail, instant messengers, social networks, website, chats. This is convenient: managers do not need to open many applications and sites, search for passwords and monitor new applications, they receive all messages and calls from clients in one program, so they respond quickly and do not miss new applications. And if you connect a chat bot to the analysis of incoming requests, then the manager will not have to answer each request manually at all. This will reduce the role of the human factor, the answer to any chat will be instant.
Sales process management.
CRM systems help managers plan tasks, communicate with colleagues, and optimize their work. With CRM, managers can make appointments, set reminders, and send documents to clients. Typical processes can be automated: CRM will remind the manager when it's time to call back, and send an SMS to the client that his order has arrived.
If the sales team is large, a CRM system will help simplify communication within the team - it has internal chats for collaboration. Directly from the transaction card, you can ask the accountant to create an invoice. This does not require any additional information. Another employee will see all the necessary information about the client in the card. CRM helps to avoid conflicts and not to take other people's transactions - they record in the cards which of the managers is already leading the client.
You can also set up sales funnel scripts and determine what actions managers perform themselves, and where the system automatically creates a transition to the next step of the funnel or performs some kind of action. For example, the system will send an invoice to the client when the manager has set the transaction status to "For payment". Or it will start showing targeted ads on social networks after filling out the questionnaire. It will track the return of the client to the site - and at this moment will set the task for the manager to call.
When does a company need a CRM system?
Let's consider two options, with the first CRM is definitely needed, and with the second - it's worth thinking about.
CRM will definitely help:
Many incoming applications;
CRM will help to collect your client base and will save the history of communication between the manager and the client in a personal card;
Applications from clients come from different channels: from the website, from social networks, mail, by phone;
CRM will help to bring all the leads together, managers will be able to respond to clients directly from the program;
Large sales department;
CRM will help to establish processes in the department and collect statistics.
Worth considering:
The company does not maintain a database of contacts or a database of clients and the list of services is not updated;
For example, a subcontractor company does not communicate with clients itself;
Clients communicate through one channel, for example, write only to Instagram direct;
A spreadsheet is enough for the manager to record the client's contacts and agreements with him;
There is no sales department;
There is only one manager in the company and he copes with applications.
The real estate agency acts as a process operator. Of course, buyers are able to find suitable housing through specialized sites, but the services of agents remove most of the problems. Ideally, the agent accompanies the client from the first call to the issuance of keys.
CRM for a real estate agency helps to manage processes more efficiently, retain leads and reduce transaction time. Without a control tool, it becomes almost impossible to regulate tasks. There are several reasons why a real estate CRM system is an essential tool:
Compliance with agreements.
Agents always have something to do: call, coordinate, clarify, go to the show, etc. If you fix the agreements on paper, some of the information will inevitably be lost. People are extremely careful in the selection of real estate, and the slightest inaccuracy can lead to the loss of a client.
Long transaction cycle.
A couple of years ago, the selection of an apartment could take a very long time - more than half a year. And this is not the most critical period. Agencies work with a lot of deals, and their employees can spend all day on the road to apartments.
Interaction with a huge client base.
Capturing customer interactions can be a simple task. The difficulties in this matter are proportional to the size of the customer base. Over time, it is more difficult to read it, agents spend more time just to understand the database.
Work with other agents and developers.
It's great when the living space is located in the internal base of the agency. More often it will be necessary to cooperate with other companies. Plus, you need to keep records of agency sales if the business cooperates with developers.
CRM for real estate agency helps to simplify these tasks.
| Need | Planner | Excel | CRM |
| --- | --- | --- | --- |
| Digitization of the client base | | | |
| Telephony Integration | | | |
| Analytics Tools | | | |
| Reminder of agreements | | | |
| Sales funnel digitization | | | |
| Grouping clients | | | |
| History of communication with clients (If the agent contributes) | | | |
| Automation of managers' work | | | |
| Automatic reports on the work of each manager | | | |
In practice, planners and Excel are suitable for fixing requests, but no more. Employees change the notebook to electronic media, but the real needs remain uncovered.
Benefits of working with CRM
Automation of routine processes
If you work in a highly competitive environment, literally every minute counts. This means that business efficiency directly depends on how quickly you move from manual control to process automation.
How CRM simplifies the work of an agent
The agent enters data into the client card after each interaction, while CRM does it on its own.
The client asks the operator to connect with a specific employee, and CRM directs the call to the right agent.
Agents regularly check the calendar, and CRM will automatically remind you to call the client or send documents.
Agent quality control
At a basic level, agencies offer similar products, so customers pay more attention to service. It is important how agents communicate, whether they process requests correctly, and whether they advise on legal issues.
CRM for a real estate agency systematizes the work of agents, allows you to analyze the effectiveness and find shortcomings in the sales funnel.
How CRM Helps Increase Efficiency
The quality of communication is assessed intuitively, but with the help of CRM, you can listen to the recording of the conversation.
The agent's work is analyzed individually, and CRM provides work analytics for specific employees.
Sales funnel management
It is easier for an agent to work when he has a list of tasks in front of him. There is an application, it is clear at what stage it is, when to call and what objections the client had.
How CRM helps you manage your sales funnel
Agents work with many data sources, but if a CRM system is implemented, then all the detailed information about the client is inside this system, and it is very easy to see it.
Improvements in work require research work, but analytics from the CRM system will help you find the stages at which deals get stuck.
This system offers a huge number of solutions for various purposes. Let's consider this in more detail.
Increasing company income
With this CRM system, your company can easily improve sales efficiency and revenue predictability.
Your sales team may be able to cut quotas and please their potential customers. Reduce cycle times and follow-ups with push notifications, email templates, custom deal milestones, and automated task management.
FreeAgent captures all of your digital customer interactions across every channel, automatically organizes the data, and runs automations customized for you. It turns out more command work with less effort.
Automated task assignment, push notifications, and real-time bulletin boards ensure smooth operation and close deals.
Custom fields, custom steps, custom anything!
Track and mark daily actions leading to sales.
Switch between tasks, not apps! Centralized information support means you can send emails, make calls, make appointments, take notes and more without leaving the page.
Real-time integration with all your favorite tools;
Instant context for all accounts when sending email, calling.
Work from any mobile application.
Real-time email open and click alerts.
Increasing sales efficiency
You can spend less time on administration and make your workdays as efficient as possible.
FreeAgent CRM automatically logs and organizes all your emails, appointments and calls so you spend much more time on sales and less time on administration.
Work with a single, intuitive list of highly effective actions across both web and mobile apps to stay in the flow, even on the go.
Track and celebrate activities that lead to sales and satisfied customers. Eliminate all the manual work of registering updates so sales reps can focus on customers. Cultivate a high five culture and share gamified goal tracking with your entire customer care team.
Create your number
Convert more leads, reduce your quotas, and improve revenue predictability. Empower your sales team by getting rid of administrative work, manual updates and everything else so they can focus on what really matters - customers!
Automatically logs and organizes all your emails, appointments and calls.
Automatic task assignment, follow-ups, and email open alerts.
Real-time email open and click alerts.
Reduce cycle time with instant lead tracking, flawless email templates, customizable deal stages, automated task management, and push notifications for important things.
Bulletin Boards support the progress and closing of deals in real time.
Instant context for all accounts when sending email, calling.
Work from any mobile application.
Customer support for your company
Develop business-customer relationships and increase revenue by prioritizing what matters most. Resolve issues quickly and correctly with notifications and instant context to complete customer history.
Ensure brand consistency across all interactions and content. Control email templates and track post-sale interaction scores to increase customer loyalty and lifetime value.
Discover Productivity
FreeAgent automatically logs and organizes all your emails, appointments and calls so you can spend more time doing what really matters. Personalized task lists that prioritize what matters most to your unique business goals. Whether it's a deal, a project, a support request, or anything else, FreeAgent keeps your team focused on the task at hand. Boards, lists and cards let you organize and prioritize any business process in a fun, flexible and rewarding way.
Switch between tasks, not apps. Centralized information support means you can send emails, make calls, make appointments, take notes, send offers and more right from FreeAgent.
Full visibility of the funnel
Track and improve conversions. Get a 360-degree view of every account with activity graphs for every digital interaction automatically captured from new lead to loyal customer.
Know what happens to your leads after they're passed on to sales. View the volume and quality of interactions, see how quickly leads are qualified, and get more insights into leads that have received low sales scores.
Leads do not fall through the cracks; the ultimate source of truth for lead tracking and evaluation.
Set up dashboards to instantly visualize marketing campaign data.
Real-time reports on follow-up time and email opened and clicked.
Customize your ICP in advertising by building a Lookalike Audience from your most successful customers.
Optimize your marketing ROI by tracking conversions all the way to wins as well as customer lifetime value.
Power up your marketing campaigns with smart data unique to your business.
Advocate a metrics-driven approach to spending and increasing marketing revenue.
Ensure brand consistency across all interactions and content; control email templates and access activity history to track interactions at the bottom of the funnel and beyond.
Strengthen your brand with beautiful email templates.
Align marketing with sales messages for a consistent experience.
Get ahead of questions with additional content.
Managing sales in FreeAgent
---
Explore Your Business Potential: Discover Our Range of Transformative Courses Today!
Unveil the power of knowledge with our diverse array of courses, from Operational Procurement in S/4HANA to SEO essentials. Elevate your expertise and drive success in your business ventures.
Get your course
---
---