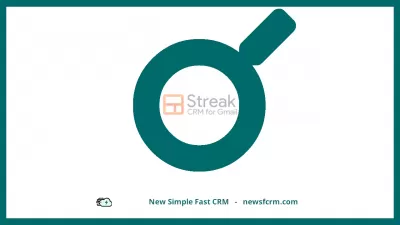 ---
---
Streak CRM for Google is a dedicated platform for managing your own projects via email.
This platform is able to automatically collect data from contacts and emails. You can receive notifications as things progress, never forgetting follow-ups and reminders.
You can work wherever it is convenient - directly in your mailbox! The platform is built directly into Gmail for desktop and mobile, with G Suite integration (Sheets, Chat, Drive, etc.) so that the user can quickly access all their data and quickly collect it.
With this platform, you can automatically share emails, notes and call logs with your team.
How to use Stripe for Gmail
Streak is only available for Gmail through the Chrome web browser. Streak does not work with Inbox or any other browser.
First you need to install Streak.
To install Streak, go to the extension page and click ADD TO CHROME. After installing Streak, you need to go to your Gmail page and Streak will be integrated into your account. You'll know the integration was successful when a small orange icon appears next to your name.
Once you create the new box, you must then add it to a Pipeline. Pipelines are the bread and butter of Streak. By default there are two pre-built pipelines (Journalism and Sales/CRM). What are pipelines? They allow you to better manage processes such as hiring and/or sales. You create new Pipelines from the left navigation in Gmail. Take a look at the left navigation and you'll notice the Pipelines entry. Click New (next to Pipelines) and then (from the popup) select the Pipeline you want to create
Possible use cases for the platform
Streak CRM allows you to manage any workflow from your mailbox.
Sales
You can manage your sales funnel using Streak CRM right in Gmail.
Changing the mailbox. Everything you need to proceed to successfully close the deal is hidden in your own email. Streak CRM captures all transactions and turns your existing Gmail into a flexible, full-featured CRM.
One powerful and efficient system.
With this platform, you can never interrupt your workflow to copy or paste information into external software again.
Intuitive design.
Streak CRM is an elegant solution that the entire team will really want to use to keep the data up to date and reliable.
Development of your own sales process.
When your sales strategy changes, Streak CRM updates are instant and intuitive. You can add a new column of any type, reorder the steps, or delete data at any time.
Complex data entry.
Whatever information needs to be tracked, the platform is always ready for these tasks. Columns are specifically designed for entering numbers, free-form text, drop-down menus, checkboxes, and anything else you might need to get started.
Custom views.
You can use various data points to filter all of the information in the pipeline into custom views of your trades.
Sell ​​together.
The entire team that uses the platform can read emails in full, even if they are not included in the thread. For example, if Edward and Lucas are working on a sale with Widget Co, Edward has access to all email between Lucas and Widget Co.
Deep integration.
Streak CRM can tie together the communication of individual teams. If you are working on a sale, you can easily find out if they have contacted support and read the entire conversation without leaving your own mailbox.
Access control.
With permission roles, you can easily maintain control over your data, share everything as your business grows, or restrict access to the lead skillset.
Immediate context.
Everything you need to know about a deal is available in the sidebar of Gmail. This includes custom fields that you can add to your own database.
Minimal effort.
Streak CRM uses email filters (by individual address or domain) to automatically match opportunity-related data to the email.
Tracking can notify when, where, and how often an email is viewed. You can use Streak CRM to call potential customers exactly the moment they think about the company. You can also receive feedback by email. Do people open an email with a specific subject line? How many people read the message but don't reply? With Streak CRM, email speaks to its owner, even if the company's leads don't. In addition, Streak CRM creates custom views in the sent emails folder. Easily see everyone who recently opened a message and all recipients who have read the email from the company but haven't responded to it yet.
With Streak CRM, you can easily create colorful charts and graphs that show how money moves down the pipeline and which participants have the greatest impact.
This platform removes the complexity of bulk mailing if needed. You can write a message, then select a list of recipients and send - no more complications! Each email can be personalized with templates.
Project management
Gmail itself is the preferred way to discuss a product within an established team. Therefore, it is possible to rein in existing conversations and also use Streak CRM to translate from discussion into action.
The platform interface is designed in the form of convenient tables that allow teams to quickly start collaborating. Plus, Streak CRM is a dedicated Gmail extension that aims to complement, not replace, familiar packages.
Streak CRM can be used to download layouts, requests for proposals and other documents that are somehow related to a specific project. You can read all emails that are associated with the project, even if you did not participate in the original discussions.
With Streak CRM, you can create beautiful reports that will help you visualize the development process. Explore the data behind the product development process. Streak CRM helps you find and eliminate bottlenecks between idea and launch.
You can use formulas to trigger the required processes. Metrics will be calculated automatically. Agile, Lean, or whatever, you can use the formula functionality to track important metrics. Track data points including time to market, accuracy of estimated release dates, and speed. Unlimited metadata is also available. You can include as much metadata as needed in the pipeline, with no restrictions. The band can be adjusted endlessly.
Business development
With Streak CRM, you can manage partnerships with your entire business development team. Everything you need to win new partnerships and maintain existing ones without leaving your mailbox is offered by the platform. One powerful and efficient system - no need to log in to another system to track activities. Streak CRM is an elegant solution that the entire team will really want to use.
When your sales strategy changes, Streak CRM updates are instant and intuitive. You can add a new column or delete data at any time, and you can change the order of the steps. The columns in the platform are specifically designed for freeform input of numbers and text, drop-down menus, checkboxes, and other tools that you may need at any time.
Streak CRM is very easy to install and has a ready-made, elegant sales funnel. The conveyor is very flexible - it can be customized as needed. Even if your team previously worked in another CRM, then switching to Streak CRM will not pose any problems.
Fundraising
Conversation with investors (and potential investors) naturally happens inside Gmail. Easily track where each investor is in the fundraising process. You can always find out what needs to be done to make the investment go further, and you can easily manage your potential investment.
You can easily unify your communication without the need for a CC. You can read the complete history of emails, even if the original email was addressed to another member of your team. Filters also make it easy to link email to the right investor. Streak CRM will know how to categorize an email based on email address and context.
Through the platform, you can use reminders to check your progress regularly. Thanks to this function, you can take control of meeting deadlines. Also Streak CRM will not let a good conversation die - you can return a letter as unread if no one answers it within a certain period of time.
If you use custom templates, you can add custom fields so that you can customize each email according to the recipient. Any field from Streak CRM can be inserted using the templates function.
You can add as many fields as needed to store all of the investor data. Streak CRM accepts unlimited metadata. Also, special formulas are available for creation, with the help of which you can quickly evaluate any data.
Business and team support
With the Streak CRM platform, you can turn Gmail into a support queue. Streak CRM is a tightly integrated extension of what a user does in Gmail every day. The platform vendor adds functionality, but does not change the basic mailbox functionality.
The platform makes it easy to automate responses. Snippets fill out complete emails (including subject line) to frequently asked questions with a simple key command. All contributors have access to the same library. The snippets can be edited, so you can continually improve your answers, thereby improving your support team and your own team.
Streak CRM makes it possible to understand who you are talking to at the moment. This means that you can get full access to the customer support history, from which you can understand whether the customer had a problem for the first time, or if they are contacting support on a regular basis.
Hiring
With the powerful Streak CRM platform, you can manage the entire hiring process, from "prospect" to "closing".
It is better to track candidates wherever there is a conversation with them - by email. Streak CRM builds on pre-existing email habits to create a simple and effective experience. In addition, you don't have to waste time learning new software, as the Gmail client is known all over the world and is especially popular.
In terms of hiring, the resume and other files are linked to a specific applicant to facilitate exchange and organization. A full contextual story displayed next to each email will help maintain a personalized recruiting experience.
Streak CRM implementation does not start with contacting professional services. Anyone can create or edit the entire workflow at any time. You can add process steps or new fields whenever the need arises.
Streak CRM is designed to store any information a candidate needs to know, including data such as names, email address, phone number, and location. Extended columns can even help keep track of data points such as the last day a candidate file was updated.
Real estate
The platform allows you to easily manage and share documents, so you can store all files or documents associated with a transaction in one central place. It is very easy to cooperate in paperwork with everyone involved in the transaction.
It is easy to share email with the legal department or escrow agent even if the email is not in their inbox. Different parties involved in a deal require different levels of access. Streak CRM makes it easy to work together without giving up full control.
You can use formulas to calculate commissions based on trade size and commission percentage (or likelihood of closing, status, or any other metric). Streak CRM makes it easy to summarize and analyze all potential commissions, which allows you to always keep track of your profit. With the help of the platform, you can automatically track the information you need to stay up-to-date with transactions. Streak CRM constantly updates information such as Date of last update or Last person to send email.
Pricing
There are four pricing plans in Streak CRM:
1. Free.
For individuals trying Streak CRM for an unlimited period of time. What is included in the tariff: basic CRM (500); merger (50); email tracking.
2. Personal, $ 15 per month per user.
Suitable for single users and professionals looking for a one-stop CRM. What is included in the tariff: basic CRM (5000); merger (800).
3. Pros.
Has a free 14-day trial, followed by $ 49 / month per user. Suitable for a business or team of any size looking for a complete CRM solution. What is included in the tariff: advanced CRM (∞); common pipelines; merger (1500).
4. Enterprise, $ 129 / month per user.
Suitable for enterprises that require deep configuration and data validation. What is included in the tariff: user permissions; data checking; priority support.
Comparison of tariff plans
Private pipelines
Tracking any business process, sales, hiring, deal and more: included in all plans.
Common conveyors
You can keep the whole team informed: only professionally / corporately.
Boxes
Data lines, items moving along the pipeline:
Free: 500
Personal: 5000
Professional, Enterprise: Unlimited
Merge letters
Send the same email to multiple recipients with auto-tracking.
Free: 50 per day
Personal: 800 per day
Professional, Enterprise: 1500 per day
Tracking email and snippets
Know when your letter is being read, create letter templates: included in all plans.
Integration with G Suite
Gmail, Calendar, Drive, Sheets, Chat: included in all plans.
Mobile access
Included in all plans.
Autobox
Automatically categorize email and add it to your funnel: included in all plans.
Basic CRM
Included in all plans.
Tasks and reminders;
Customizable columns and fields;
Magic Columns and Fields: Automatically fill in data such as Created Date or Last Email Date;
Search and autocomplete;
Attached files;
Import Export;
Call logs and meeting notes;
Upcoming Series: Organize all your tasks in one window and know exactly what you need to do today;
Related Conveyor Items: Connect two related conveyor items so you can easily move between them;
Saved Views: Search, filter and sort your data in any configuration and share it with the whole team or open it directly in your inbox.
Advanced CRM
Professional / corporate only.
Rich contacts: Automatically complete your contacts with details such as name, company and number of employees;
Team Email Exchange: Full visibility of the emails your team sends to external clients and contacts;
Formulas;
Reports;
Built-in dialer support: Dial contacts directly from Streak CRM using any dialer app or send calls to your mobile device
Data checking
Make sure your data is consistent and complete throughout the pipeline: in the corporate plan only.
Integration and API
Full integration with G Suite and over 2000 integrations.
Free, Personal: not included
Professional: Standard API
Enterprise: Webhook
Permissions
Control access to viewing and editing.
Free, Personal: not included
Professional: Basic
Enterprise: Regular
Support
World-class support to customize your team.
Free: not included
Personal, Professional: Email Support
Enterprise: Premium Support
Individual billing
Additional payment methods, payment by several teams and individual conditions: only in the corporate plan.
★★★★☆
Streak CRM for Gmail Review
 With the Streak CRM platform, you can turn Gmail into a support queue. Streak CRM is a tightly integrated extension of what a user does in Gmail every day. The platform vendor adds functionality, but does not change the basic mailbox functionality.
---
About the author - New Simple Fast CRM
He is an international SAP ERP implementation facilitator. He worked more than 10 years in international ERP project management, global supply chain perfection, financial optimization, and SAP ERP project deployment. He made business transformation possible in various industries, such as Logistics, Cosmetics, Consumer Goods, Beauty Care, or Fashion, in many countries around the globe.
---
---