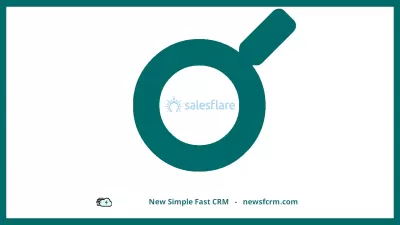 ---
---
SalesFlare is a dedicated time-saving tool that allows you to spend less time entering data so you can focus on your sales and customers.
In simple terms, SalesFlare can be used to achieve fully automated contact information as well as company information. This means you no longer have to worry about storing phone numbers or email addresses, or regular mailing addresses for each customer. SalesFlare is good at gathering all this information from emails, email signatures and even social media profiles. All information that SalesFlare receives will automatically appear in a special address book.
SalesFlare is a cloud-based Customer Relationship Management (CRM) software solution specifically designed for small and medium-sized businesses and small startups looking for a reliable and easy-to-use platform that automates the data entry process. This solution is designed for marketing agencies and salespeople who want to make the most of their time and effort by focusing on tracking leads and generating leads.
A number of CRM solutions on the market require users to manually enter data into the system - a lengthy and painstaking process, prone to errors and redundancy, which often distracts attention from what really matters. SalesFlare eliminates this through automation, so the sales force can focus on product or service marketing.
Salesflare is a CRM system for small B2B companies and startups. Salesflare integrations, through various automation tools, allows you to sell more with less work. The system automatically fills out your address book for you, tracks various interactions, collects data from social networks, email, company databases, phone books and calendar.
Thanks to this program, you can stop wasting time on endless data entry, this time can be spent on clients. With SalesFlare, you can save up to seventy percent of the time previously spent entering data that the program can collect automatically.
SalesFlare automatically records appointments and phone calls. The program can connect to a mobile phone and calendar, analyzing the received data. She knows how to record meetings and phone calls with clients.
A separate folder is created for each customer in the system, which simplifies the systematization process. SalesFlare automatically organizes documents and other files that are exchanged with customers.
The program is able to automatically suggest various possibilities in a given situation. SalesFlare intelligently brings to the surface the capabilities that require an action, and also shows the information required for that action.
Follow-up based on customer response. With SalesFlare, you can track when and how customers interact digitally. For example, you can find out if they open emails, if they visit the site, and if so, what exactly interested them the most. All this information is stored for each client separately, and it can be analyzed in real time.
Communication with clients increases the success for long-term cooperation several times. Therefore, by sharing a SalesFlare account with their team members, they can follow the conversations with customers in which they participate, without the need to engage in communication by email, phone calls and meetings. SalesFlare can work with both Outlook and Gmail inbox.
Thanks to SalesFlare, you can work with your team on one customer address book. SalesFlare automatically detects which team email addresses and phone numbers are customers. Contact information is stored in one central address book, so the entire team can count on complete information. At the same time, private contacts are always confidential.
SalesFlare has a convenient integration with Zapier, which in turn makes it possible to have integration with more than 3000 other applications, such as Mailchimp, Google Contacts, Slack. All this makes it possible to automate tedious tasks in the workflow.
The SalesFlare API can connect to any CRM, ERP and more. The developers love the REST API. Within minutes, the company's development team can start communicating with SalesFlare from CRM, ERP, or any other customer-related systems.
SalesFlare Benefits
Companies with sales teams and representatives reap the most value from SalesFlare as it enables them to increase the productivity and efficiency of their salespeople. This is achieved by allowing users to quickly and easily complete more sales tasks and processes, rather than wasting time on data entry.
The platform does all this automatically so that it is possible to minimize all repetitive processes. SalesFlare also automatically extracts information from existing customer profiles so that sales personnel do not enter the same data manually.
SalesFlare CRM provides a smarter and more efficient approach to integrate and connect to other widely used sales and marketing channels than other CRM systems on the market. The solution easily connects to the user's existing email, social media, calendars, phone book, company databases and the Internet. This allows the sales team to focus on marketing and business development.
The simplicity of the software solution is another huge benefit for small businesses and startups. Despite the fact that it comes with a lot of features and capabilities, advanced automated tools and other very useful features, the platform is actually very easy to use and requires very short training. SalesFlare organizes documents quite effectively, both those that are collected from customers and those that exist within the company.
SalesFlare also enables sales and marketing teams to work together seamlessly and efficiently. This allows you to optimize internal communications so that everyone on the team has access to relevant information when it comes to both old and current accounts, projects and other ongoing operations in the company.
The software solution consolidates all customer information into one address book, a single database of all customer profiles and account information. This allows the company's salespeople to get all the information they need from one place. This saves time and effort trying to get accurate and up-to-date information about a single customer, or looking at the history of customer interactions in a company.
SalesFlare also lets you consolidate all your conversations into one centralized hub. It is easy and convenient to reach all potential clients through multiple channels, whether by email, chat, social media or in person. In doing so, all interactions with customers and customers are effectively combined on a single platform that is more efficient and practical.
Data migration is another aspect that many companies often face when choosing new CRM solutions. SalesFlare is designed so that businesses and organizations don't have to worry about manually transferring tons of data. The platform comes with simple data transfer tools to make the process of transferring data between CRM systems or other software solutions as fast and simple as possible.
Contact management is another aspect that SalesFlare excels at. The platform provides an opportunity to determine the type of customers that sellers are dealing with, whether it is a potential investor, target customer, advertiser, business competitor, social media influencer, press representative, and so on. When a new contact is entered into the database, it is possible to mark this specific contact, and the system will place it in the appropriate category.
Pricing in SalesFlare
SalesFlare has three tariffs to choose from in its pricing:
The Growth tariff is suitable for a start-up company. The plan costs $ 29 per user if billed annually and $ 35 if billed monthly. The package includes all the expected functions related to CRM, as well as: automated CRM data entry; tracking emails, links and website visits; a fully functional email sidebar is available for use, as well as a mobile application; personalized company email.
Tariff Pro is suitable for a medium-sized company. The plan costs $ 49 per user if billed annually and $ 55 if billed monthly. The package includes all the functions of the previous tariff, as well as: sending workflows from several letters; setting user rights; creating your own dashboards.
The Enterprise tariff is suitable for large and confident companies in the market. The plan costs $ 99 per user if billed annually. Suitable for a large number of users (from five people). This tariff includes all the functions of the previous tariffs, as well as: individual training; automated data transfer; dedicated account manager.
In addition, the program has a free trial period, during which you can familiarize yourself with the functionality in more detail and decide which tariff to buy for the first time.
You can subscribe for one month, not for a year at once. However, as you can see from the description of the tariff plan, registration of SalesFlare for a year will immediately be much more favorable in price.
When the free trial period ends, you will definitely receive an email notification. You can immediately become a paid client of the company, in this case you will not have to create a new account and continue working with the existing data.
In the SalesFlare tariff plans, all the functions for which payment is taken are fully indicated, that is, there is no such option that a subscription is made, and then you have to pay extra for some necessary functions. In addition, a subscription can be marked at any time, without any advance notice.
To start using SalesFlare with your team, you just send them an email invitation from SalesFlare. Setting up takes just a couple of minutes. Once the setup is complete, team members will be able to send emails and schedule meetings as usual. SalesFlare captures all this activity, and also makes it trackable for the entire team.
There are no hidden limits in SalesFlare on the number of contacts, users, email templates, tracked emails, emails sent, custom fields, workflows, dashboards, or even sales pipelines.
SalesFlare comes with a feature-rich CRM suite designed for startups and small and medium-sized businesses in sales and marketing. The platform allows you to easily and efficiently manage your contacts, sales force, customer / customer database and sales / marketing processes in one software solution.
This cloud platform requires no download or installation. With it, you can track all of your important company data, customer profiles, social media, email, and more without worrying about the productivity and efficiency of your entire sales force. The system is designed to make sales and marketing operations more efficient and productive through the features and tools it offers.
★★★★⋆
SalesFlare CRM Review: CRM for small businesses
 This cloud platform requires no download or installation. With it, you can track all of your important company data, customer profiles, social media, email, and more without worrying about the productivity and efficiency of your entire sales force. The system is designed to make sales and marketing operations more efficient and productive through the features and tools it offers.
---
About the author - New Simple Fast CRM
He is an international SAP ERP implementation facilitator. He worked more than 10 years in international ERP project management, global supply chain perfection, financial optimization, and SAP ERP project deployment. He made business transformation possible in various industries, such as Logistics, Cosmetics, Consumer Goods, Beauty Care, or Fashion, in many countries around the globe.
---
---